The Lowcountry of South Carolina has heat, humidity AND some great times of the year for enjoying cool evenings in a comfortable setting.
Outdoor living spaces are very popular and outdoor living spaces are often a feature of B. Chaney Improvement's custom home and major addition projects.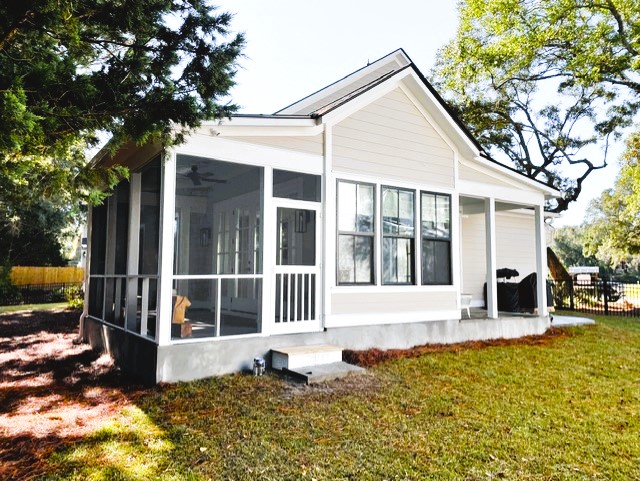 Outdoor Living Spaces in 2024
The 2023 fall season has been a beautiful one so far in the Greater Charleston, SC area. This season probably has two months left that will offer ideal temperatures for enjoying outdoor living spaces. If you have one, you've probably been grateful. If you don't, you've probably been wishing for one. Meet with a B. Chaney representative soon if you want that wish to become a reality in 2024. The B. Chaney design and construction experts can start planning for your sunroom, deck, gazebo, patio or screened porch now and have it completed before your 2024 regrets set in a year from now.
November Fun in the Lowcountry
There are lots of things to do in the Charleston area most months, but November is chock full of fun opportunities, even before Thanksgiving on November 23rd. Here is a link to November events in the Lowcountry. And don't forget to "fall back" before going to bed on Saturday, Nov. 4th to get that extra hour of sleep.
However, if you are planning a building project – like an outdoor living area – in 2024, Brad Chaney would enjoy meeting with you soon. He has decades of building experience and a reputation for doing construction and home repairs the right way. He will also use his experience to offer construction options that many other contractors and homeowners may not consider. He promises the meeting will not take too much time away from your November fun plans.
Contact B. Chaney for Your Building Projects
Contact B. Chaney Improvements through this website or by emailing the office staff at bchaneyimprovements@gmail.com to talk about your 2024 building project. You can also call the office at 843.388.4334.
B. Chaney Improvements builds custom homes, major additions, completes home repairs and does home improvement projects throughout South Carolina's Lowcountry. Those improvements include replacement window installation. They serve the areas of Charleston, Mt. Pleasant, Awendaw, North Charleston, Daniel Island, Isle of Palms and Sullivan's Island. 
Click here to view the B. Chaney portfolio of building projects and renovations.