Are your windows worn and in need of replacement?
If it's time to replace your old, worn-out windows, or you just need to ask a few questions, contact us and let's have a discussion. Click here to get started, or call us at
973-390-3482
.
Quality Windows Are Your Home's Best Defense from the Elements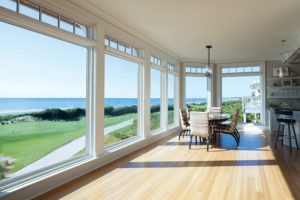 Windows and glass doors are your first line of defense between the weather outside and the inside of your home, and can make the difference between being hot and miserable or being comfortable in the intense Summer heat of the Charleston, SC area.
We live in a beautiful part of the country, and having windows that let us see the beauty outside – while protecting the inside of our home – is critical.
Over time the salt in the Charleston area's coastal air can cause damage to the integrity of your window's wood, metal and glass components, which can then become worn out and weathered with loosened seals – this allows the hot, humid air of summer to penetrate your home and lets out your air conditioning. Unfortunately this uncomfortable situation is all too common in the South, and as we all know, cooling your home is one of your major expenses over the hot summer months.
Let B. Chaney Improvements evaluate and make sure you are not throwing your hard-earned dollars (literally!) out the window. Replacing your windows can drastically reduce your utility bills over the long haul. With the rising cost of energy now, and certainly in the future, and the extreme conditions that come with living near the ocean in our little bit of paradise, it is more important than ever before to make sure your windows are up to par. If they aren't doing their job, we can help you replace them with quality replacement window that will withstand the elements.
Brad helped us update our downstairs that included taking a wall out, adding molding and trim around window & doorways, built ins by our fireplace, shiplap on our fireplace and a complete remodel of our kitchen. He did a beautiful job and was great to work! He's kind, respectful and professional. He does amazing work and is efficient and does his business with great integrity. I would recommend him to anyone looking to do any type of remodel, additions or updates to their house!
Lizzie P. (from Google)