Is it time to build your dream kitchen?
If you are ready to move ahead with a kitchen redesign or kitchen remodel or custom home, or just want to ask a few questions, contact us and let's have a discussion. Click here to get started, or call us at 973-390-3482.
Why Choose B. Chaney Improvements for Expert Kitchen Remodeling Services?
Brad Chaney and his staff at B. Chaney Improvements have been making dream kitchens come to life for more than two decades. During this time, he has built a strong reputation among customers looking for top-quality construction, renovation and home design services.
Our expert designers understand that a kitchen is more than just a place to prepare family meals. Our designs keep in mind the practical aspects of the room, but also create the best layout for social gatherings and family needs, resulting in a superior, functional design, every time.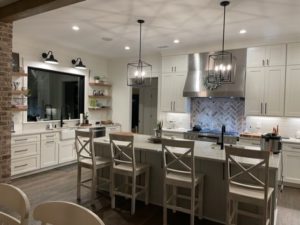 Brad will work with customers to identify the specific features that will create the ideal kitchen, including   trendy or classic sinks; granite, soapstone, Corian or other materials for the counter tops; high-end   cabinetry; lighting fixtures; and energy-efficient kitchen appliances are just a few details we help with in   making the best choice. We make sure everything goes according to schedule in a smooth and timely   manner. We finish work on time, while maintaining the highest quality standards.
 If clients are working on a tighter budget, we can also handle cabinet refacing as an alternative to installing   a whole set of new cabinets. We can easily cater to any theme of your choice, and even offer valuable suggestions to improve the look of your existing kitchen. Our goal is to make sure every portion of the space in your kitchen is maximized to reach its full potential. Every square foot is taken into consideration when creating a floor plan that is a pleasure to work in.
If a redesign is the goal, we can also change the overall layout of your kitchen. We have experience taking small, cramped spaces and opening them up to create effective, roomy workspaces.
When you're ready to create the kitchen of your dreams, within your budget, the team at B Chaney Improvements is ready to work for you.
A huge shout out to Brad Chaney! I just moved into my new home and had some significant water damage to repair … Very responsive, efficient, professional ,quality work! Awesome guys!! I highly recommend Brad and his team!
Ashley S. on Facebook