October is upon us and it's a great time to be outside for work and play.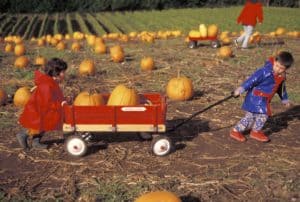 We're closing out September and entering October, which means fall is here and the work that comes with it. Thankfully, it's not all work and no fun, because pumpkin patches and other outdoor activities are encouraged during the lingering pandemic. So, let's make that list of weekend to-dos, and plan a balanced approach of work and fun during the cool, October days. We've provided a list below that may help in building your own.
And, if one of your list items is a home improvement project, you can count on us.
We remodel kitchens, bathrooms and just about any part of a house that needs updating. We work with clients to understand what they want and the best way to get it done the right way.
If you have bigger construction dreams, we can even do whole-house renovations; build a major addition; or design and build a new home.
We also do home improvement work, such as replacement windows and roof replacement.
Fall To-Do List
With fall being a busier season, we think this checklist is a great way to be ready for the shorter days, colder nights and holidays that are on the horizon.
Here is the list. For even more suggestions, click on the link to get all the details.
Clean and store summer gear

Set up a family calendar
Clear the way for easy weeknight dinners
Share your backyard harvest from your garden
Clean carpets and floors
Organize for back to school
Check emergency kits
Make sure the holiday decorations are organized and ready to use
Schedule "do-nothing" and "fun" time for fall
Clean and organize storage places, such as the basement or garage
Finish up outdoor projects, such as landscaping
Check your home for signs of pests and places they can enter
BONUS: Make sure siding, gutters and sidewalks are cleaned by a professional pressure washing company.
To read all the details about this list, click here to link to the article from HOUZZ.
Contact Us About Your Construction Project
Click here to find out more about B. Chaney Improvements. If you prefer to talk to us, send us a message or call our Charleston, SC office at 843.388.4334.
We work in Charleston, Mt. Pleasant, North Charleston, Daniel Island, Isle of Palms and Sullivans Island. Click here to view some of our work.