Have Your Windows and Doors Replaced to Save on Energy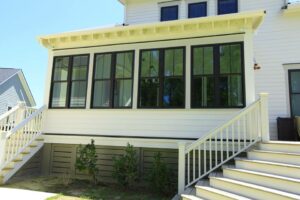 Windows are your first line of defense between the beauty you see outside and being comfortable in the mid August heat of Charleston, SC area. Over time the salt air can rain havoc on your windows, these can than become warn out and weathered causing their seals to loosen, allowing the hot humid air of summer to penetrate your home. Unfortunately this  uncomfortable situation is all to common in the South. Cooling your home is one of your major expenses over the hot summer months.
Let B. Chaney Improvements evaluate and make sure your not throwing hard earned dollars, literally out the window. Replacing your windows can drastically reduce your utility bills over the long haul. With the rising cost of energy being unavoidable in the future, and the extreme weather
conditions of living near the ocean in paradise, it is more important now than ever before to check and replace your window today.
A professional from our company will be happy to come out and discuss your options for making your home more beautiful and energy-efficient with a stress-free project that generally is started and over within a couple days. Call or email us today to schedule an appointment.
Client Testimonial: "I honestly don't think you could hire a more honest, talented contractor (than Brad Chaney). I was extremely pleased with the work that was done on my home."
– Kimberly C., Mt. Pleasant, SC
We are the home repair contractor for Charleston, SC and the greater Lowcountry area.