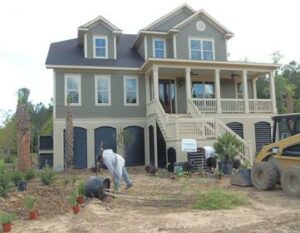 B. Chaney Improvements is a South Carolina licensed general contracting and home improvement company that services the Charleston, SC area, including the surrounding areas of Mt. Pleasant, West Ashley, North Charleston and Daniel Island, SC.
With more than 20 years in business as a licensed contractor, Brad Chaney and his team strive everyday to maintain the highest level of professionalism that very few companies in the construction industry can match.
We handle big p
rojects like custom-built homes, additions, decks & patios, and complete kitchen and bathroom remodeling projects. We can also handle the smaller needs too.
We know exactly how to handle water damage, which often happens in the Charleston, SC area. We will thoroughly inspect the affected area and give you the best options for fixing it the right way.
No matter the size of the building project, we pride ourselves in using a craftsman's approach to the construction industry.
We are always here for you, every step of the way. To schedule a time to meet, click here to Contact US.