About Us – B. Chaney Improvements is a licensed general contracting company serving the Greater Charleston, SC area.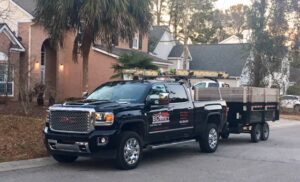 With more than 20 years in business as a licensed contractor, Brad Chaney and his team strive everyday to maintain the highest level of professionalism that very few companies in the construction industry can match.
We handle big projects like custom-built homes; major additions; decks and patios; roof replacements; and complete kitchen and bathroom renovations.
We can also handle the smaller needs too. We can take care of home repairs; window replacements; remodeling of rooms; water damage issues; and much more.
We know exactly how to handle water damage, which often happens in the Charleston, SC area. Our professional contractors will thoroughly inspect the affected area and give you the best options for fixing it the right way. We are sensitive to budget constraints, but will advise from the perspective of fixing it the best way according to our expert opinion.
No matter the size of the building project, we pride ourselves in using a craftsman's approach to the construction industry. We have completed many construction and home repair projects in the Charleston area, including the surrounding areas of Mt. Pleasant, West Ashley, North Charleston and Daniel Island, SC.
We are always here for you, staying in constant communication throughout every step of the project you hire us to complete. To schedule a time to meet, click here to Contact US.
Client Testimonial
"Brad helped us update our downstairs, that included taking a wall out, adding molding and trim around window & doorways, built-ins by our fireplace, shiplap on our fireplace and a complete remodel of our kitchen. He did a beautiful job and was great to work! He's kind, respectful and professional. He does amazing work and is efficient and does his business with great integrity. I would recommend him to anyone looking to do any type of remodel, additions or updates to their house!" – Lizzie P. of Charleston, SC
The expert builders at B. Chaney Improvements in Charleston, SC build custom homes; major additions to existing homes; and outdoor living spaces and porches. They are also skilled at whole-house renovations. As far as home improvements, they install replacement windows and remodel bathrooms and kitchens. They also take care of home repairs.
We are the home repair contractor for Charleston, SC and the greater Lowcountry area.